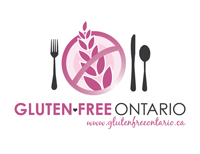 North Central
Barrie
89 Toronto Street (705) 739-6886
Can accommodate egg, milk, diabetic and gluten allergies.
610 Huronia Road (705) 733-3373
Gluten-free menu choices, additive and preservative-free.
96 Victoria Street (705) 737-4646
Gluten-free buns, bread and pizza crust.
12 Commerce Park Drive (705) 735-3366
Gluten free cookies, cake and cheesecake available. Custom orders only.
29 Maple Avenue 705-252-0910
Any sandwich or wrap can be gluten-free as well as gluten-free crepes! Cookies, scones, cupcakes, quinoa and most soups are gluten-free.
481 Welham Road (800) 353-3178
Offers gluten free breads and pizza crust.
92 Elizabeth Street (705) 795-2253
Can accommodate sugar, gluten, peanut, nut or egg free cake requests.
7 Dunlop Street East (705) 252-5816
Offers gluten-free naan and entrees.
Baysville
705-706-1968
Variety of gluten-free baked goods.
Bracebridge
10 Manitoba Street 705-645-0085
They offer gluten-free and dairy-free cakes and cupcakes. Not a dedicated facility.
Collingwood
100 Pine Street (705) 445-7771
Most menu items can be tailored to meet gluten-free needs.
Cookstown
2 Queen Street (705) 291-1010
Offers gluten-free muffins.
Dwight
2803 Highway 60 (705) 635-9639
Offers gluten-free pasta.

Haliburton
207 Highland Street 705-457-3443
Offers gluten-free pasta, pizza and sandwich option.
Huntsville
7 John Street (705) 789-6842
Offers gluten-free burgers, ribs, chicken, salmon, steaks, pork, nachos and more.
68 West Rd, Unit 3 (705) 789-6655
Gluten-free quiches, smoothies, fresh juices, rice bowls, salads and more.
13 Cann Street (705) 789-9503
Offers a variety of gluten-free foods, including bread, cookies, bagels, brownies, tarts, muffins and more.
126 Main Street W. (705) 789-7200
Gluten-free options available.
Gravenhurst
Lively
Gluten Free Galore
(705) 596-3311
Dedicated gluten-free bakery.
Meaford
8 Skyes Street N. (226) 662-2033
Offers a variety of gluten-free salads, meals, snacks and baked goods.
Muskoka
North Bay
344 Algonquin Avenue (705) 474-6322
Gluten-free pizza and pasta available.
Orillia
117 Mississauga E (705) 329-0943
Gluten-free pub food, including pizza, burgers and more.
276 Memorial Avenue (705) 327-8677
Offers gluten free pizza and other gluten free meals.
Owen Sound
899 10th Street W. (519) 470-4040
Gluten-free bakery with many options.
791 2nd Avenue E. (519) 371-6479
Offers gluten-free treats.
1020 10th Street West (519) 376-2492
Owen Sound (519) 371-3844
Gluten-free cakes available.
114 8th street east 519-373-6758
Offers bread, baguette, muffins, cupcakes, cookies, crackers, dinner rolls, pie, pizza dough, tarts and other items by request.
101-B Worthington Street E. 705-472-0032
Offers gluten-free soups, sandwiches and salads. Gluten-free catering also available.


Parry Sound
10 Bay Street (705) 746-4300
Gluten-free options noted on menu.
321 Highway 124 (705) 389-1166
Gluten-free baked goods available.
Port Elgin
Port Elgin (519) 386-3797
Gluten-free cakes available.
Sault Ste Marie
75 Elgin Street (705) 942-6186
Gluten-free pancakes and more options available.
133 Spring Street 1-877-783-7362
Menu includes a gluten-free section with items such as soup, salad, gluten-free penne, gnocchi, lasagna and veal.
Sudbury
827 Barrydowne Road (705) 586-3287
Gluten-free items available, such as breads, muffins, cookies and cakes.
2516 Hwy 69 North (705) 897-8430
Many gluten-free items indicated on the menu.
183 Cedar Street (705) 674-5277
All menu items are or can be prepared gluten-free.
194 Elgin Street (705) 673-2112
Gluten-free pizza available.
1463 Lasalle Blvd (705) 560-2500
Gluten-free pasta available.
Thornton
4171 Innisfil Beach Road (705) 458-2932
Gluten-free pizza and chicken fingers.
4171 Innisfil Beach Road (705) 458-4858
Gluten-free fish and chicken available.
Thunder Bay
(807) 629-5033
Variety of gluten-free products available, including breads, cakes, cheesecake, cookies, muffins, brownies, pizza and lasagna.
386 North Cumberland St (807) 620-2218
Dedicated gluten-free bakery, offering breads, cookies, pies, tarts, dinner rolls and more.
Tiverton
9 Mill Street (807) 620-2218
Gluten-free soups, pizza, pasta, entree dishes, seafood and desserts.
Disclaimer: I cannot guarantee that the restaurants and bakeries listed are completely aware of the cross-contamination issues involved when preparing gluten-free food. Please ask all appropriate questions when visiting any restaurant or bakery.